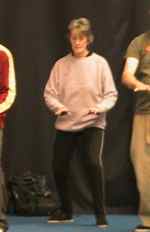 Hazel Hunt
"Over the last few years I have become very involved in exploring the intricacies of T'ai Chi and Qigong - and still remain committed to studying the many different levels of both! I also have a great interest in nature, meditation and artwork, a creative side that has developed through my T'ai Chi practice.
As an ex fully qualified nurse I have some knowledge of the physical body, and I find the practice of T'ai Chi and Qigong gives me a deeper understanding and awareness of the health benefits that regular practice can bring - both physically and mentally. I enjoy very much sharing knowledge with other people, especially with the many friends I have in the T'ai Chi world.
At present I run weekly classes in the villages of : Yealand Redmayne - Lancashire and Storth/Milnthorpe - Cumbria. Also private lessons if required. Currently I teach two Yang Style T'ai Chi forms:- a) Cheng-Man-Ching (short Yang form) b) Beijing 24 step form And various Qigong exercises and forms - with special emphasis on attaining inner strength and vitality, mental calmness and function, and self-healing - self-improvement"
Michael Poulter is a semi-retired counsellor with a background in aikido as well as T'ai Chi. He practises T'ai Chi to create calm and confidence through relaxation.
"I am noticeably much more in the here-and-now after a practice and feel 'cleaner'. If I am unable to get to a practice for a week or two I know there is something missing in my life"
"I like to do a particular form over and over again so that the body remembers and there is consequently less thinking about it, more relaxation and moving meditation. One ambition would be to get completely immersed in a form so that there is no thinking at all"
Sorry Steve, can't get your picture to load!
Steve Tomlinson

I first 'had a go' at tai chi at a workshop at the Womad music festival in 2003. When I got back I found out about Dee 's weekly class in Kendal and went along. Since then, I've learnt a number of hand and weapons forms and currently attend classes in Windermere and Kendal and go to seminars, weekend courses etc. as often as possible. The first form I learned was the 24 step ' Beijing style' yang form and it's still possibly my favourite.
I find that tai chi and qigong act as a great tonic – you learn to concentrate on the here and now and I always come back from a session feeling invigorated and calm. It took me quite a while to realise that it's the journey that counts rather than the destination. I'm sure that my posture has improved and that my general health has benefited over the last few years. As well as the health benefits I've met lots of really nice people through my classes and courses. I wish I'd started tai chi when I was younger but nevertheless I'm really pleased that I did take it up and hope to be able to continue to practice it for a good few years to come.